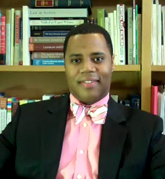 Gregory S. Parks
Assistant Professor of Law
Wake Forest University
Professor Gregory Parks examines race and the law, with a particular focus on implicit (automatic/unconscious) bias and law. Parks earned his JD from Cornell University (2008), a PhD. (2004) and MA (2001) in clinical psychology from the University of Kentucky, a MSc. in forensic psychology from John Jay (1999), and a BSc. from Howard University (1996). He is author or editor of nearly 10 scholarly books, including "12 Angry Men: True Stories of Being a Black Man in America Today" (The New Press 2011), "The Obamas and a (Post) Racial America?" (Oxford University Press 2011), and "Alpha Phi Alpha: A Legacy of Greatness, the Demands of Transcendence" (University Press of Kentucky 2011). Parks is currently co-authoring a book with Cornell Law professor Jeffrey Rachlinski on unconscious race bias and the law.

---
Gregory S. Parks: Interview
Gregory S. Parks speaks with Valerie Hans on several issues:
Question 1: What is Critical Race Realism?
Question 2: What Does the Theory Help Us Do?
Question 3: What Kinds of Social Science Techniques are Used to Study Unconcious Racism?
Question 4: How Should We Understand the Term: 'Driving While Black'?
Question 5: "Twelve Angry Men": Using Both Statistics and Anecdotal Evidence to Understand Racism
---