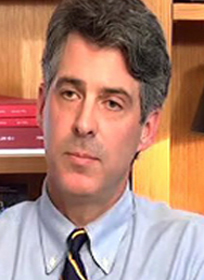 Michael Heise
Professor of Law
Cornell University Law School
Heise's research focuses on bridging empirical methodologies and legal theory. He earned an A.B. from Stanford University, a J.D. from the University of Chicago, and a Ph.D. from Northwestern University, and was admitted to the Illinois Bar in 1987. Prof. Heise served as Senior Legal Counsel to the Assistant Secretary for Civil Rights in the U.S. Department of Education and later as Deputy Chief of Staff to the U.S. Secretary of Education. He entered academia in 1994, and has taught at Cornell Law School since 2003. His research and teaching areas include torts, law and education policy, insurance, constitutional law, and empirical methods. Professor Heise has co-edited the Journal of Empirical Legal Studies since 2005.
---
Michael Heise: Interview
Michael Heise speaks with Valerie Hans on several issues:
Question 1: How did Brown versus the Board of Education "empiricize" education law?
Question 2: What are some of the costs and benefits of an empirical approach to educational rights?
Question 3: Why did Brown's lawyers decide to support their constitutional arguments with social science evidence?
Question 4: Discussion of the doll study in Brown v. Board
Question 5: Grutter and Justice O'Connor's identification of a 25 year horizon where affirmative action will no longer be necessary.
Question 6: What is the role of social science in determining whether affirmative action is no longer necessary to achieve societal goals?
Question 7: Discussion of the use of social science evidence in Parents' Involved case.
Question 8: How do gender and race claims differ in education law cases?
Question 9: In the VMI case, the Court cited studies of high achievement in single gender schools. What are the problems with relying on these studies?
Question 10: What is the value of using random assignment to test school reforms?
Question 11: What is the constitutionality of single gender educational programs, in your view?
Question 12: Is there a Catch 22, in which you need data about the impact of school reforms before being allowed to test them in the public schools?
Question 13: How is social science evidence employed in school finance cases?
Question 14: What is the future of social science in education law?
---